Transparent LCD Display, Transparency Magic LCD Showcase
19/08/16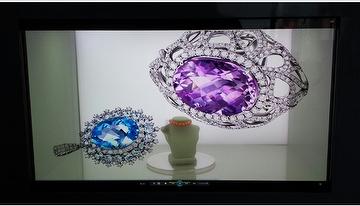 Transparency Magic Showcase
Candeo Corporation is pleased to released to most up-to-date Transparent LCD Display from 22" to 82" - Transparent Magic Showcase.
Through replace polarizer on the 2 sides of glass of common liqid crystal panel (abbreviated as "LCP") with optical coating developed by own technology, the LCP turned to Transparency High Definition High Contrast Crystal Liquid Panel (abbreviated as "TR"), light transmittance is improved up to 12~15% from 6% or so, so the object behind panel will be seen clearly when it powered on, especially while white color on screen.
Contrast ratio also be improved at least 200% higher based on our optical coating technology, gorgeous video, vivid picture, soft color, clear words display on the TR screens even backlight is not so strong, and great three-dimension effet.
Sunlight readable, based on optical coating technology, sunlight pass through liquid crystal, other than diffuse reflection at screen surface, people is clear to see object behind panel; more light projected from backlight due to high light transmittance are seeable, meanwhile 2 times contrast ratio will help people to read under strong sunlight; what is more, few heat gathered on the surface of screen because of sunlight passed through, not stop, because of high light transmittance, there are never black dot appeared on the screen as LCP happened, so TR provides logner service.
As an optical technology, TR panel display exact and soft color, more clear and gorgeous video, vivid picture, it catches more attention and brings perfect experience to readers.
100% higher light transmittance + 200% higher contrast ratio = TRansparency
It is the best choice for advertisement + real sample demonstration.
Standard size: 21.6", 31.5", 42", 47", 55", 70"
Custom size: 7"~84" are available
The advantage of Candeo trasparency magic LCD showcase are:
1. Light transmittance: 15%, 2 times more than conventional LCD.
2. Contrast ratio: 4000:1, 200% higher than conventional LCD
3. Right color as it is, more gorgeous
4. Industrial-grade components and design
5. Sunlight readable
6. Professional back light system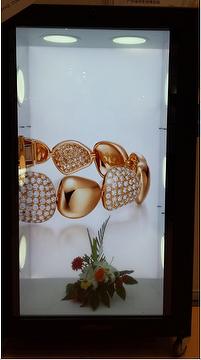 Transparency Magic Showcase
Transparency Magic Showcase